CA Type (CNC Type)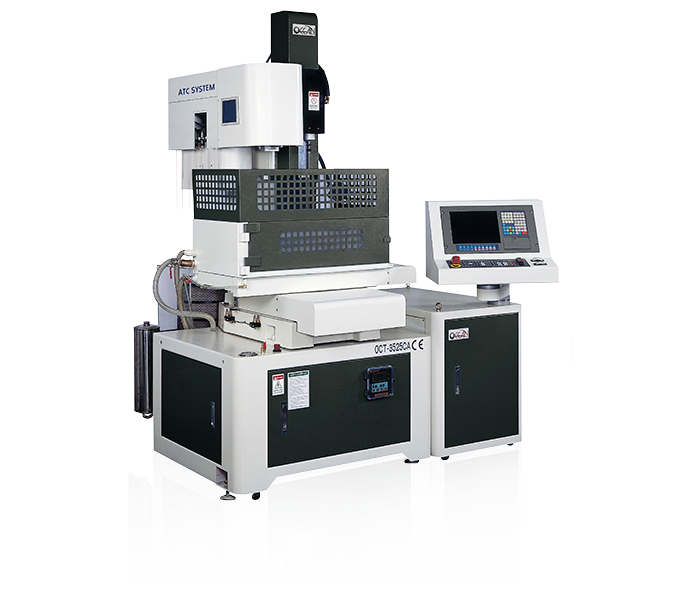 COMPACT HARDWARE AND HIGH QUALITY HUMAN-MACHINE INTERFACT
Industrial Class Computer(Pentium 266 CPU,32M RAM)
12.1"TFT LCD Display Panel
Display Power and External Keyboard Inte-rface
I/O Operator's Panel
4 Axes Closed-loop Motion control Card
I/O Control Card
AUTOMATIC TOOL CHANGE, AUTO GUIDE CHANGE AND INTELLIGENT TOOL COMPENSATION
Auto Tool Change control.
Auto guide change.
Auto compensation of replacement new electrodes while machining electrode is run out.
Once the machining depth is reached, the electrode automatically returns to a fixed height above the workpiece.
Variable deepness control of machining.
Simulation and working path display.
Many condition files - each file input has -100 discharge variables.
100 sets of drilling deepness
USER FRIENDLY AND COMPATIBLE
Dialogue Programming
G/M Code Programming
Background Editing
Special Modular Machining (Circle, Rectan-gle Patterns)
Auto Edging. Centre of Two Points. Center of Circle Contains Electrode.
Radius Compensation.
FLEXIBLE AND MAINTAINBLE
Self-Diagnostic System Display
Hardware Status Display
Alarm History Management
RS232 Trans Function
Chinese/English Conversion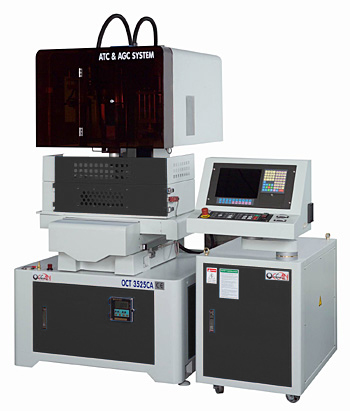 OCT-3525CA

Auto Guide Change(AGC)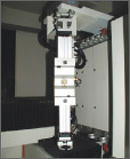 Robot for ATC & AGC
AUTOMATIC TOOL CHANGE AUTO GUIDE CHANGE COMPONENTS

ATC & AGC Systerm

Auto Tool Change(ATC)

Guide chuck + Block

For CNC type
CNC EDM DRILL CONTROL FUNCTION:
ITEM
FUNCTION
MCS
Maker setting of parameter
Program Edit
File 5000 Blocks
Load, Insert, Delete, Copy, Save......
Program simulation
Point coordinate input function from DXF file
Parameter Setting
Machining condition library
Parameter list
Machining Method
Single hole machining
Muitiple holes machining
Special modular machining
(Circle pattern, rectangle patten)
Single block machining, auto machining
Manual Function
Positioning
Auto Edge search
Auto centering of two point
Auto centering of two circle
Jog function (Incremental, Continuous, Non-Protection)
Coordinate Display
Machine coordinate
Work coordination
Relative Coordinate
Following error display
 NC Function
4 Axes closed loop control
Servo feed control
Auto electrode change
Auto electrode compensation
Pitch error compensation
Interrupt point and start point restart
Chinese/ English conversion
Inch/ Metric conversion
Emergency stop during machining (Auto detection for emergency condition)
Selective program execution
Program machining Start, Hold, Reset
Subprogram call (Max: 8 layers)
Modify parameter during machining
Machining path display
Work path display
Machine time record and display
Software limit protection
Test run
Auto error detection
Axis rotation
 G Code
G00 Fast Positioning
G04 Hold Seconds
G05 No Guard Fast Positioning
G06 Check Point Set
G30 Block Skip Cancel
G31 Block Skip Active
G38 Condition Table Change
G53 Machine Coordinate Position
G80 Edge Searching
G81 Machine Origin Searching
G82 Locate Groove Center
G83 Locate Inner Hole
G84 Locate Outer Center
G85 Locate Circular Cylinder Center
G90 Absolute Coordinate
G91 Relative Coordinate
G92 Work Coordinate Point Setting
 M Code
M01 Program Hold
M02 Program End
M03 Spindle CW
M04 Spindle CCW
M05 Spindle Stop
M06 Guide Change
M08 Fluid Supply Start
M09 Fluid Supply Stop
M20 Electrode Change
M36 Machine A Hole
M98 Call Sub-Program
M99 Sub-Program End
MODEL NO
OCT-3525CA
OCT-4535CA
OCT-5540CA
Table travel (X,Y axes)
350 x 250 mm
450 x 350 mm
550 x 400 mm
Work table size
600 x 300 mm
600 x 300 mm
800 x 450 mm
Z axis travel
200 mm
200 mm
250 mm
W axis travel
350 mm
345 mm
345 mm
The maximum height of workpiece
330 mm
330 mm
420 mm
Max. workpiece weight
250 kgs
600 kgs
1000 kgs
Power input

According to local voltage

Maximum average current
32 Amps
32 Amps
32 Amps
Power capacity
3.8 KVA
3.8 KVA
3.8 KVA
Electrode diameter
0.1~3.0 mm
0.1~3.0 mm
0.1~3.0 mm
Machine net weight
800 kgs
1000 kgs
1500 kgs
Depth / Width / Height
1100 x 1200 x 2100 mm
1600 x 1600 x 2300 mm
2000 x 1800 x 2200 mm
*Due to continuous research and development, all specifications and design characteristics are subject to change without prior notice.
*All the specifications are subject to change without prior notice.